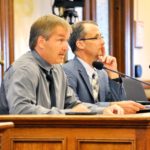 Committees formed to review public notice laws in two states adjourned last month after showing strong support for maintaining public notices in newspapers. Wisconsin's Legislative Study Committee on Publication of Government Documents and Legal Notices ended its review on Oct. 10, deciding to recommend only one change to a minor category of notices. Three days later, the Kentucky General Assembly's Program Review and Investigations Committee ended its 27-month study with no changes.
"The final recommendation of the (Legislative Study Committee) unanimously supported the continued publication of public notices in newspapers," said Beth Bennett, executive director of the Wisconsin Newspaper Association (WNA), in an email sent to her members following the committee's third and final hearing. "We believe that the committee conclusions and recommendations will benefit newspaper efforts to fight off attempts to eliminate public notice going forward."
Bennett said the legislation recommended by the committee would slightly modify a category of notices required to be published by local government units. She said WNA has not opposed the change in the past and will review the legislation when it is drafted.
The review in Kentucky was prompted by a senator's assertion that the state could save a significant amount of money by moving public notices from newspapers to government websites. The committee staff presented highlights from its 115-page report at its final hearing, which also featured testimony from Kentucky Press Association (KPA) Executive Director David Thompson.
The report showed wide variations in the estimated cost of public notice spending by individual counties, cities, and school districts. Nevertheless, even jurisdictions that spent the most, percentage-wise, devoted a mere fraction of their budget to public notice advertising, according to the minutes of the meeting. For instance, although the city of Sadieville, with a population of 313, spent less than half of 1 percent of its budget on public notice, Louisville/Jefferson County spent even less, just two-hundredths of 1 percent.
KPA's Thompson told the committee that the state should continue to require public notices in newspapers to support government transparency and ensure taxpayers know how their tax dollars are spent. He said a change in the law and consequent loss of revenue would "be detrimental to weekly papers (who've told him) they would probably have to cut one or two employees," according to a report in The Daily Independent of Ashland.
"Several committee members made comments and asked questions but none were convinced moving notices out of newspapers is best for taxpayers," reported KPA's member website.
Note: The photo illustrating this post shows Gregg Walker (left), publisher of The Lakeland Times in Minocqua and the Northwoods River News in Rhinelander, and Andrew Johnson, publisher of the Wisconsin Free Press Group, testifying in July before the Legislative Study Committee. Photo courtesy of the Wisconsin Newspaper Association.