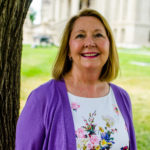 The director of the same Michigan environmental agency under fire for dismissing concerns about the contamination of Flint's water supply admitted her department failed to provide sufficient notice of another recent water proposal in the state, according to MLive Media Group.
Michigan Department of Environmental Quality (MDEQ) director Heidi Grether (pictured on the left) told an air and waste management law conference last week that 42 days on MDEQ's website "probably" wasn't sufficient to properly notify the public about a request by Nestle Waters North America to increase the amount of groundwater it pumps in Osceola County. Grether was named director of MDEQ in August after her predecessor was forced to resign in the wake of the Flint crisis.
"Was this advertised and noticed in a way it should have been? Probably not, it appears to me," Grether said.
Nestle's request first came to wide public attention on Oct. 31, when Garret Ellison of The Grand Rapids Press reported on the multinational corporation's plan to increase the amount of groundwater it pumps from a particular well by 167 percent. MDEQ received more than 3,000 emails after the news organization published the story, which prompted the agency to extend the public comment period by several months. MDEQ also now plans to schedule a public hearing on Nestle's request, which would support a $36 million expansion of its Ice Mountain bottling plant in the state.
MDEQ has already issued a draft approval for the request.
"The issue is the privatization of a critical resource," Jeff Ostahowski told MLive. The vice president of the Michigan Citizens for Water Conservation (MCWC) objects to water bring diverted from watersheds that feed the Great Lakes.
An attorney who represented MCWC in a previous battle with Nestle over groundwater pumping told MLive the right of Michigan citizens to register their opinion on government decisions about water has been "diminished to the point of absurdity."
"Water is public, subject to high ethical and legal duties of protection for Great Lakes, lakes and streams, wetlands, groundwater, fishing, recreation, farming and businesses here," said Jim Olson, co-founder of the Traverse City-based freshwater advocacy nonprofit FLOW (For Love of Water). "The MDEQ's handling of the Nestle application is as lax as the handling of the Flint water crisis. Nothing has changed."
MDEQ's latest crisis comes on the heels of the Environmental Protection Agency's recent decision to eliminate mandatory newspaper notice for Clean Air Act permits issued by it and EPA-affiliated agencies like MDEQ. EPA eliminated newspaper notice (PDF) for actions taken under the Safe Drinking Water Act in 2000.