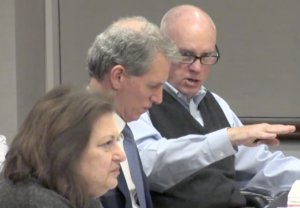 At its March 23 meeting, the Empire State Development Board of Directors was discussing a Staten Island development project when the issue of public notice arose. The board had satisfied its statutory obligation by posting notice of the project in the New York Daily News, but had received complaints that notice should also have been published in the Staten Island Advance.
During a brief discussion of the matter, Director Robert Dyson (on far right in photo) encouraged the Board to exceed the legislative mandate by publishing notices of its projects in multiple newspapers. "We should endeavor to make sure we never hear … that people didn't get enough notice," said Dyson, who later added, "It's not a costly thing" to run public notices in newspapers.
Director Joyce Miller agreed. "It presents a more community-friendly impact" to publish development-project notices in local newspapers, she said.
Video of the meeting is available here. The discussion about public notice begins at 55:58 and runs less than four minutes.