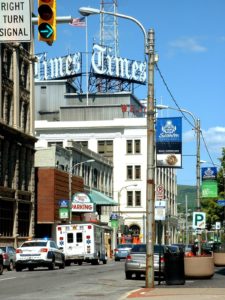 The Aug. 30 issue of the (Scranton, Pa.) Times-Tribune featured a story by public-notice reporting wiz Jim Lockwood about the annual "upset sale" of tax delinquent properties in Lackawanna County. The story was prompted by a six-page notice in the paper listing 1,883 properties for which delinquent taxes are owed to the county.
The story includes comments from the public official responsible for placing the notice. Here's what he told Lockwood, who won PNRC's Public Notice Journalism Award in 2015 and came in second in last year's contest.
In years past, after such public notices of delinquencies were published in newspapers, many owners paid up or entered into a payment plan to get their properties removed from the sale, Koldjeski said.

He expects the same thing to happen again, and the listing may end up reduced to about 1,200 properties before the sale takes place, he said. Past annual upset sales usually had about 600 owners make good on delinquencies or enter into payment plans to get their properties removed from those sales, he said.
The article was the most-read story on the Times-Tribune website the day it was published. Apparently it's the kind of reporting people want to read.
Today's Most Read story on @timestribune: #LackawannaCounty to hold tax sale on Sept. 25, about1,900 delinquencies: https://t.co/8RdOeYgm3j

— Clayton Over (@ClaytonOver) August 30, 2017
The story proved to be valuable in at least four different ways. It:
1) Brought considerably more attention to the notice, which newspapers must work to do in an age of declining print circulation;
2) Helped readers understand a government process most citizens are only vaguely aware of;
3) Demonstrated the power of newspaper notice by providing evidence of the impact this specific notice has had in the past; and
4) Showed local officials, including the government employee responsible for placing the notice, that the Times-Tribune takes its responsibility as the local source of public notice seriously, and doesn't treat the notices it is paid to publish as an entitlement.
Newspaper notice is under assault from politicians who want to punish reporters and don't care about government transparency. More newspapers are going to need to treat public notice like the Times-Tribune for the industry to defend its traditional role as the herald of official notice.