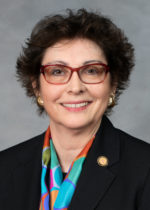 Rockingham County's Board of Commissioners last month approved a referendum asking the state legislature to allow all government units in Rockingham to publish public notices on the county's official website rather than in local newspapers.
The resolution specifically referenced the General Assembly's passage two weeks earlier of Sen. Trudy Wade's (R-Guilford) Senate Bill 181, which authorized neighboring Guilford County to move all public notices in the county from newspapers to its official website. Wade's bill was almost identical to House Bill 205, an earlier measure she backed that passed the legislature this summer but was swiftly vetoed by Governor Roy Cooper (D). However, unlike HB 205, Wade's latest effort to eliminate newspaper notice was drafted as a veto-proof "local" bill.
"I think I'm probably right that this would be the first time in North Carolina where a local bill has been introduced as a way of circumventing a gubernatorial veto," Greensboro News & Record Editor and Publisher Daniel Finnegan told a reporter from his paper. "It's certainly a rare occurrence if it's not the first time."
Wade's bill allows Guilford County to pass an ordinance annointing itself as the official provider of notice in the county, including notice of its own activities. The "pilot program" also allows the county to charge fees for the notices it posts on its website, ranging from $450 for foreclosure notices to $10 for local notices sold to the state or its political subdivisions. The Board of Commissioners in Rockingham County are now seeking the same authority.
SB 181 passed the North Carolina House on Oct. 5 by only a single vote, and then was approved by the Senate by a wider margin. It takes effect Dec. 1.
Although Wade (pictured above) has consistently denied it, many in the state believe she pursued the legislation to punish the News & Record, the largest newspaper in the county. "I think we all know what this bill is about, a personal vendetta against the paper," said Rep. Pricey Harrison (D-Guilford) during the floor debate over SB 181.
State legislators in North Carolina tailor bills to local jurisdictions more often than officials in many other states, according to the News & Record. They have "more latitude to pull strings locally," reports the paper, because counties and cities in North Carolina have fewer home rule powers than they do in many other states.
The Rockingham County resolution was introduced by Kevin Berger (R), Vice Chairman of the Board of Commissioners and son of North Carolina Senate leader Phil Berger (R-Eden). The resolution notes the circulation of papers distributed within the county ("less than 4,000" subscribers for RockinghamNow, and 5,900 subscribers for Greensboro News & Record's Rockingham section) and the annual cost to the county of purchasing public notice advertisements.
"We currently spend over $28,000, at least last fiscal year, on legal notices, and it's something that I think we need to ask the legislature to include us in allowing us to publish legal notices on our website," Kevin Berger said as he introduced the resolution.
It passed unanimously with no discussion. (View video of the Rockingham County Commissioners addressing the resolution at its Oct. 16 meeting.)