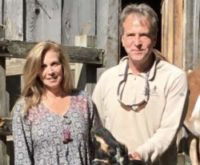 The failure to publish proper notice is rarely punished, so it was surprising to see local officials in Maine and Illinois recently relieved of their positions as a result of breakdowns in the public notice process. The sacked officials compounded their problems with other missteps, but notice issues were at the center of both dismissals.
In Maine, Stephen Beckert was removed from his position as chairman of the Eliot Planning Board on Sept. 14 after an investigation found the board consistently failed to publish newspaper notice of its public hearings. Beckert's dismissal was the culmination of three years of conflict with a handful of local residents, particularly citizen watchdogs Michele and Jay Meyer (pictured above). During that period, the Meyers regularly attended Planning Board meetings and "became involved in several high-profile board cases and actions," according to the Portsmouth (N.H.) Herald.
After noticing that agendas and minutes of the Board's hearings were "habitually" filed late, Jay Meyer read copies of the Portsmouth Herald and Foster's Daily Democrat (Dover, N.H.) published in 2015-16 and found few notices. A subsequent investigation by the papers' parent company confirmed that notices were published for only four of the 21 public hearings held during that period. It also showed the lack of notice wasn't the paper's fault, despite the contention of the town employee responsible for placing the ads.
"Our policy is to respond by email to all requests for legal notices, generally that day or within 24 hours," said Seacoast Media Group's classified manager. "If we don't respond, we didn't get it."
In addition to the findings relating to notice, Eliot's Select Board learned that Beckert lashed out and made obscene remarks about the Meyers both verbally and in an email. They removed him from office after discussing the issue in several executive sessions.
Although the town announced changes to address its public notice problems, the Meyers will probably continue to keep local officials' feet to the fire. "Failure to post the legal notices, required by Eliot ordinances and state law, was either gross incompetence, willful resistance to the law, ignorance, ineptitude or a combination of some or all," Michele Meyer told the Herald.
In Illinois, the board of directors of the Hinsdale-Clarendon Hills Elementary School District decided last week not to renew the contract of Superintendent Don White after the current school year ends, according to the Pioneer Press. The board made its decision based largely on a faulty notice that led to a delay in building a new middle school in the district. The delay resulted from a citizen lawsuit challenging the validity of a referendum in which voters authorized the board to issue $53.3 million in bonds to build the new school. Notice of the referendum was published three days earlier than permitted by Illinois law.
This story was based on reporting in the following articles:
Eliot Planning Dept. failed to inform public
Portsmouth (N.H.) Herald and Foster's Daily Democrat (Dover, N.H.), Oct. 9
Here's why Eliot Planning Board chairman was removed
Portsmouth (N.H.) Herald and Foster's Daily Democrat (Dover, N.H.), Oct. 8
School Superintendent dismissed in part over faulty notice
Chicago Tribune, Oct. 31
Lawsuit challenges school construction over faulty newspaper notice
Chicago Tribune, Jan. 9