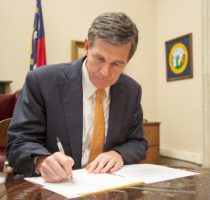 North Carolina Gov. Roy Cooper's veto of a bad public notice bill is safe for now.
When the legislature reconvened on Aug. 3, it was expected to consider the four vetoes penned by the Democratic governor (pictured on left) that hadn't already been overridden by the Republican-dominated body. But the vetoed bills — including HB 205, Sen. Trudy Wade's (R-Guilford) apparent effort to punish the newspapers in her district – were assigned to the House Rules Committee instead. Sources with knowledge of the Republican leadership's thinking say they didn't have the votes to override the vetoes, according to the North Carolina Press Association (NCPA).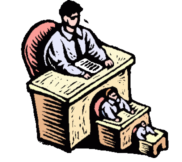 The Anne Arundel (Maryland) County Council is considering legislation proposed by its Department of Public Works that would allow public notice for right-of-way purchases, road abandonment, and petitions to extend water and sewer services, to be published on its website. The bill would also eliminate the current requirement that department officials post a sign on the affected property or publish two notices in a local newspaper.
This is a minor local issue that normally wouldn't merit the attention of a national audience.
But a statement made by the county's public works director to the Capital Gazette caught our attention. It perfectly encapsulates the bureaucratic perspective on public notice.