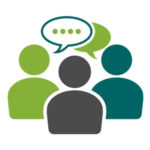 Two recent national studies clearly indicate that many people read public notices in their local newspapers. The studies also show that newspapers remain a far more effective medium for public notice than government websites.
Susquehanna Polling and Research's survey of 1,000 U.S. households, commissioned by the National Newspaper Association (NNA), asked two questions of direct interest to policymakers focused on public notice issues. The first question asked respondents to indicate on a scale of one to seven how often they read public notices in their community newspaper, where one equals "never" and seven means "very often". The mean score of their response was 3.93, with a full 21 percent saying they read notices in the paper "very often" and 81 percent indicating implicitly they read newspaper notices at least some of the time.
A recently-released report from the United States Census Bureau reports that more than 25% of American households remain without an internet connection in their home. Data from 2013 shows that 74.4% of American households use the internet, with 73.4% reporting a high speed internet connection.
The study, Computer and Internet Use in the United States: 2013, reports that household computer ownership and Internet use were most common in homes with relatively young householders, in households with Asian or White householders, in households with high incomes, in metropolitan areas, and in homes where householders reported relatively high levels of educational attainment.
Consumers trust newspaper advertising over online advertising, finds a recent report by the Nielsen Company.
The report, Global Trust in Advertising and Brand Messages, found that traditional newspaper advertising is among the most trusted forms of paid advertising. The survey was conducted in early 2013 and polled 29,000 internet respondents from across the globe.
As newspapers face renewed efforts in 2014 to pull public notices from newspapers onto the Web, it is crucial for legislators to understand the importance of newspapers as a trusted source of content for consumers.