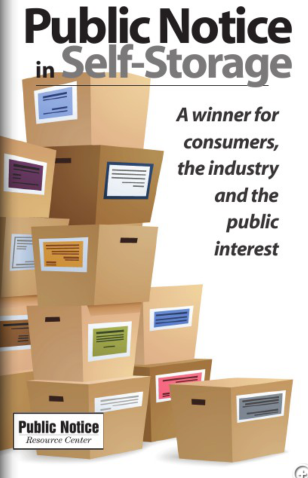 New Book Explains how Public Notice Protects the Integrity of Storage Unit Auctions
The history of public self-storage is one built through consumer trust and shored by checks and balances. Now a common sight in most American communities, public-storage facilities provide consumers with the flexibility of keeping prized possessions at a relatively low cost. In return, consumers expect to reclaim the property in good condition.
In today's law, public-storage facilities have the right to seize their renters' property and sell it all for a fraction of its worth when bills are not properly paid. No court or officer of the law is required. Renters must give away this right of sale when they sign storage contracts.
In the place of judicial oversight, lawmakers many years ago ordered personal notice to renters and public notice published in a newspaper to provide checks and balances against the power held by the industry. But today, the self-storage industry is fighting to eliminate this public notice to the community. In state after state, the self-storage industry is arguing that the industry should further enhance its power over its renters by providing little public notice of a property seizure and auction, other than on a facility owner's own website.
The Public Notice Resource Center's new self-storage booklet examines the industry's arguments and explains why strong public notice of storage auctions is important to balance the industry's power. Extensively end-noted, the booklet provides original source material for each statistic and assertion, making it an indispensable tool for our subscribing partners and newspaper owners across the country.
Subscribing partners can view PNRC's self-storage book here. Single copies of the booklet are $29.95; bulk pricing is available. All proceeds support the Public Notice Resource Center, a non-profit organization whose mission is to collect, analyze, and disseminate information on public and private notifications to the public through local newspapers, and to educate the public on the value and use of its right to know.