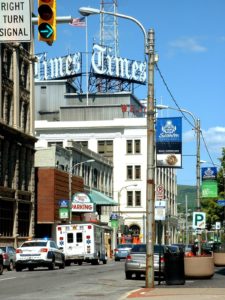 The Aug. 30 issue of the (Scranton, Pa.) Times-Tribune featured a story by public-notice reporting wiz Jim Lockwood about the annual "upset sale" of tax delinquent properties in Lackawanna County. The story was prompted by a six-page notice in the paper listing 1,883 properties for which delinquent taxes are owed to the county.
The story includes comments from the public official responsible for placing the notice. Here's what he told Lockwood, who won PNRC's Public Notice Journalism Award in 2015 and came in second in last year's contest.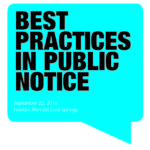 The Public Notice Resource Center's premier public notice conference packed the room Sept. 22 on the first day of the National Newspaper Association's Annual Convention in Franklin, Tenn. The half-day symposium featured panels on best practices, legislative strategy and the importance of publishing public notices on the web, and presentations on design and the state of public notice. The conference was sponsored by Tecnavia, Nevada Legal News and the Illinois Press Association.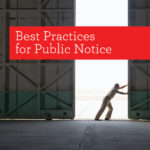 The Public Notice Resource Center issued "Best Practices for Public Notice" on Sept. 22 at its first industry-wide symposium on public notice. The brief guide is based on research by PNRC that identified the practices that publishers must follow to protect newspaper public notice and the public's right to know. It includes easy-to-read, graphical presentations of the best practices as well as the full document issued by the charitable organization, whose mission is to collect, analyze, and disseminate information on public and private notifications to the public through local newspapers, and to educate the public on the value and use of its right to know.