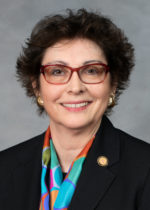 Rockingham County's Board of Commissioners last month approved a referendum asking the state legislature to allow all government units in Rockingham to publish public notices on the county's official website rather than in local newspapers.
The resolution specifically referenced the General Assembly's passage two weeks earlier of Sen. Trudy Wade's (R-Guilford) Senate Bill 181, which authorized neighboring Guilford County to move all public notices in the county from newspapers to its official website. Wade's bill was almost identical to House Bill 205, an earlier measure she backed that passed the legislature this summer but was swiftly vetoed by Governor Roy Cooper (D). However, unlike HB 205, Wade's latest effort to eliminate newspaper notice was drafted as a veto-proof "local" bill.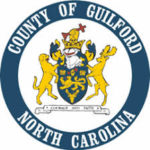 North Carolina State Sen. Trudy Wade's battle to eliminate public notice in newspapers is set to move to a new front this week. According to the News & Record, the state legislature is expected to consider a local version of her public notice bill when it reconvenes on Wednesday.
Wade's previous public notice bills have been state legislation. Even her measure that was vetoed in July by Gov. Roy Cooper — which had been amended minutes before it passed to focus solely on Guilford County — was a North Carolina bill. Like that bill, her latest effort would affect only Guilford County, but it has been written as a piece of local legislation. Local legislation can't be vetoed by the governor.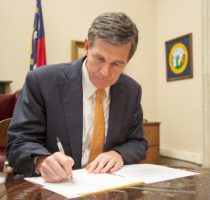 This story was updated on Sept. 5.
North Carolina Gov. Roy Cooper's veto of a bad public notice bill is safe for now.
The state's legislature adjourned for the year on Aug. 31 without ever having voted whether to overturn the governor's veto of HB 205, Sen. Trudy Wade's (R-Guilford) apparent effort to punish the newspapers in her district.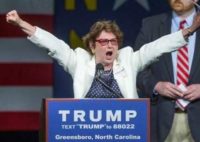 If at first you don't succeed, try, try again.
North Carolina State Senator Trudy Wade (R-Greensboro, photo on left) heeded that advice and last week finally succeeded in passing a bill that makes government less transparent.
After her two previous efforts to move public notice in the state from newspapers to government websites failed, in March Wade introduced another sweeping revision of the state's public notice laws. When her bill stalled in the House, as it had in the previous legislative session, Wade didn't give up.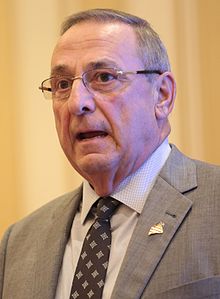 We have found a governor whose animus for newspapers may exceed Chris Christie's.
Maine Gov. Paul LePage (photo on left) dislikes the papers in his state so intensely he vetoed a bill last month requiring them to continue to post public notices on their own websites at no extra charge to the state. Overwhelming majorities in the legislature overrode his veto the following week.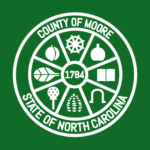 Nobody reads the paper anymore?
Tell that to Moore County Tax Administrator Gary Briggs, whose office recently collected 60 percent of the $1.37 million it was owed by delinquent taxpayers after publishing their names in the local newspaper, The Pilot.
Briggs published the list on March 8 as a 12-page special section in The Pilot, at a cost of $8,000. A month later his office had collected almost $821,000 of its outstanding tax debt, according to The Pilot.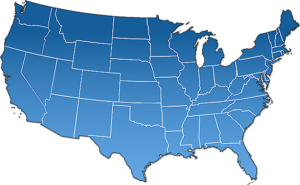 Legislation that would authorize radio and television station websites to publish public notices in Nevada has become a serious threat to newspapers in the state, according to the Nevada Press Association (NPA). Senate Bill 218 would establish broadcaster websites as an alternative to newspapers for all legislatively mandated notices in the state, including foreclosure and other private-party notices.