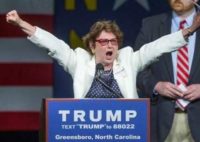 If at first you don't succeed, try, try again.
North Carolina State Senator Trudy Wade (R-Greensboro, photo on left) heeded that advice and last week finally succeeded in passing a bill that makes government less transparent.
After her two previous efforts to move public notice in the state from newspapers to government websites failed, in March Wade introduced another sweeping revision of the state's public notice laws. When her bill stalled in the House, as it had in the previous legislative session, Wade didn't give up.