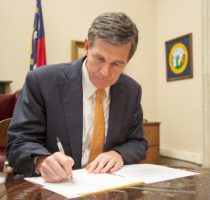 This story was updated on Sept. 5.
North Carolina Gov. Roy Cooper's veto of a bad public notice bill is safe for now.
The state's legislature adjourned for the year on Aug. 31 without ever having voted whether to overturn the governor's veto of HB 205, Sen. Trudy Wade's (R-Guilford) apparent effort to punish the newspapers in her district.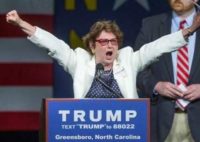 If at first you don't succeed, try, try again.
North Carolina State Senator Trudy Wade (R-Greensboro, photo on left) heeded that advice and last week finally succeeded in passing a bill that makes government less transparent.
After her two previous efforts to move public notice in the state from newspapers to government websites failed, in March Wade introduced another sweeping revision of the state's public notice laws. When her bill stalled in the House, as it had in the previous legislative session, Wade didn't give up.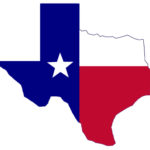 Support for public notice in newspapers received another boost on Nov. 1, when a joint legislative committee issued a report (PDF) recommending that Texas continue to rely on newspapers to inform the public about official actions in the state. The Joint Interim Committee on Advertising Public Notices suggested the legislature "maintain the current print requirement" and called newspapers "a third party who both creates a lasting and reliable record of the notice and acts as a gatekeeper to ensure that governments post their notices correctly."