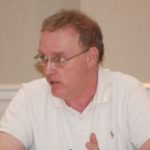 Most public notices look like classified ads — an undifferentiated mass of agate type, designed primarily for goal-directed readers.
The public notices in Kentucky's Georgetown News-Graphic are different. They look like news stories (PDF), designed to capture readers' attention and promote the kind of serendipity that distinguishes newsprint from electronic formats. News-Graphic Publisher Mike Scogin (photo on left) decided to make this change about a year ago, after reading an issue of a newsletter distributed by newspaper-design consultant Ed Henninger.
One of Henninger's suggestions — make public notices look more like the news — made sense to Scogin, who worked in newsrooms in Natchez, Mississippi and Mobile, Alabama before becoming a publisher. He was the kind of journalist who read the public notices in his newspaper because he knew they were a source of news.
"The news value of public notice is overlooked," Scogin says. "I thought that redesigning our public notice section was a good way to promote that. I also wanted to show the local government units that run the notices that we're acting in their best interest."
Scogin said the transition to a "presentable public notice section that invites readers" hasn't been easy. Public notices must be run verbatim, which eliminates the design flexibility that comes with news stories. And the production staff responsible for designing public notices at the News-Graphic "just want to make ads," so they aren't used to thinking in terms of news design. So Scogin had to bring his newsroom and production department together to make the change.
He says local government officials have generally acknowledged the new look, but its biggest proponents have been his readers. He hears regularly from subscribers who hail the increased accessibility of the notices. 
Not everyone has been happy about it though. The owner of a liquor store who placed a notice in the News-Graphic to qualify for a liquor license was irate because its increased visibility prevented him from keeping his plans hidden from his local competitor. 
Scogin's upgrade exceeds the letter of the law in Kentucky, which only requires notices to be published in 7-point type. The public notices in the News-Graphic are now 10.5 points, the same size as the type used for news stories in the paper. Moreover, the section head, large headlines, and pillowy white space, and the graphics that now accompany some notices, also use space. It's space that Scogin doesn't charge extra for.
"This is important," Scogin says. "I'm happy to give up the extra space to provide our readers with information they need."