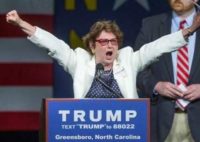 If at first you don't succeed, try, try again.
North Carolina State Senator Trudy Wade (R-Greensboro, photo on left) heeded that advice and last week finally succeeded in passing a bill that makes government less transparent.
After her two previous efforts to move public notice in the state from newspapers to government websites failed, in March Wade introduced another sweeping revision of the state's public notice laws. When her bill stalled in the House, as it had in the previous legislative session, Wade didn't give up.
Late last Wednesday, in the waning hours of this year's session, Wade narrowed the scope of her bill and attached it to a separate measure she had also introduced earlier this year that eliminates the legal presumption that newspaper carriers are independent contractors. The new, less-ambitious version of her public notice bill was deemed a "pilot program" and its impact was limited to Guilford County. (Not coincidentally, Wade represents Greensboro, the county seat.) The bill passed both the Senate and House just a few minutes before midnight. It will become law unless Gov. Roy Cooper, a Democrat, vetoes it; he has until July 30.
Wade's legislation moves all court-ordered legal notices, like foreclosure notices, to the county website. Other government notices could continue to run in newspapers unless local county, city and town officials in Guilford decide to publish them on their own websites instead. The bill also authorizes the county to charge between $10 and $450 for notices published on its site and earmarks half of the funds for its Board of Education.
The legislation also contains some statewide changes to North Carolina's main public notice statute. It sets limits on the price newspapers can charge for notices requiring multiple publications; revamps the criteria for newspapers to qualify to publish notices, including eliminating the periodical-permit requirement; and requires newspapers to publish notices on their own websites, a change that was included in a separate bill supported by the North Carolina Press Association.
Many in North Carolina believe that Wade's motivation in passing the bill was to hurt her hometown paper, the Greensboro News & Record. A couple of local elected officials endorsed that view.
In the House debate, Rep. Amos Quick (D-Greensboro) described the bill as "a target program against the News & Record."
Rep. Pricey Harrison (D-Greensboro) claimed that Wade held other House bills that were pending in the Senate "hostage" in order to get her bill passed. "It was really about Trudy Wade and the News & Record," Harrison told the paper. "I do think it's her vendetta against the News & Record."
"It really doesn't have anything to do with the News & Record," Wade told the News & Record in the same story. "It has to do with making sure the citizens have free access to legal notices."
A new effort to eliminate newspaper notice was also introduced in Pennsylvania last month, where Sen. John Eichelberger (R-Blair) sponsored a bill that would move local government notices from general circulation newspapers to government websites. SB 725 would authorize the state office of Open Records to create and maintain a statewide public notice website that local governments could use to post their notices in lieu of newspapers. Local government units that adopted electronic noticing would also be required to place notices on their own website if they have one. The bill was referred to the Senate Local Government Committee on June 7.
In Texas around the same time, Gov. Greg Abbott announced a special session beginning July 18 and newspapers in the state are worried that property tax notices could be targeted. Two property tax reform bills that died during the regular session contained provisions that would have eliminated newspaper notice. The governor listed property tax reform as a special session priority, so the Texas Press Association fears the notices may be up for grabs once more.
Despite these dark tidings, there was also some good public notice news last month.
In Maine, a bill that would have moved public notice in the state from newspapers to a government agency website died after it was reported out of committee following a Senate hearing on June 14. The measure was proposed and strongly supported by Gov. Paul LePage.
And in Michigan, the governor is expected to sign a bill that passed both houses last month that will increase rates for court-ordered legal notices like foreclosure notices. The measure adjusts rates to reflect the increase in the Consumer Price Index (CPI) over the past 10 years and it requires annual CPI adjustments through 2025. According to Michigan Press Association Public Affairs Manager Lisa McGraw, this was the third time the bill had been introduced. She credited this year's passage with getting an early start on the bill, which helped prevent it from getting caught up in end-of-session lame duck politics.