A U.S. District Court in Michigan ruled last month that a foreclosure notice published by the Detroit Legal News did not violate the Fair Credit Reporting Act. FCRA is a federal law designed to protect the privacy of consumer credit information held by credit reporting agencies.
The case was filed earlier this year after plaintiffs Matthew and Stephanie Walker lost their home in a foreclosure proceeding. Their complaint alleged that Detroit Legal News violated their privacy rights under FCRA by publishing notice of an impending sheriff sale of the property. The notice included information about the sale and stated the Walker's mortgage was in default and the amount they owed was $56,825.94.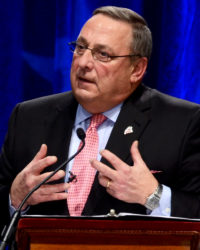 As we noted last month, Maine Gov. Paul LePage doesn't like the newspapers in his state. There's now evidence to suggest his disgust for print-based local journalism provokes him to stake out irrational positions on public notice bills.
In April, LePage vetoed a bill requiring newspapers to continue posting public notices on their own websites at no extra cost to the state. The veto was counterintuitive but it had an internal logic. LePage doesn't believe in half measures. He is convinced that newspapers are dying but he's an impatient man, so he wants to do all he can to hasten their demise.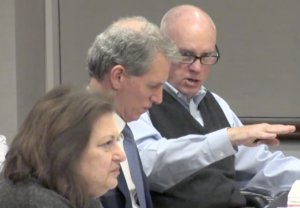 At its March 23 meeting, the Empire State Development Board of Directors was discussing a Staten Island development project when the issue of public notice arose. The board had satisfied its statutory obligation by posting notice of the project in the New York Daily News, but had received complaints that notice should also have been published in the Staten Island Advance.
During a brief discussion of the matter, Director Robert Dyson (on far right in photo) encouraged the Board to exceed the legislative mandate by publishing notices of its projects in multiple newspapers. "We should endeavor to make sure we never hear … that people didn't get enough notice," said Dyson, who later added, "It's not a costly thing" to run public notices in newspapers.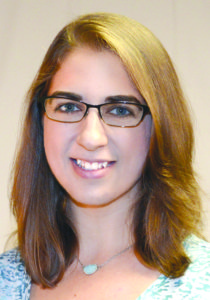 Amanda Fanger, a reporter for Reporter & Farmer, a weekly newspaper in rural Day County, South Dakota, today was named winner of the 2017 Public Notice Journalism Award. Fanger won for a story that scratched below the surface of a public notice (PDF) to reveal a potential embezzlement scheme in one of the small towns within her paper's coverage area.
Fanger will receive a $500 award and a free trip to Washington, D.C., where she will be honored at a March 16 dinner at the National Press Club.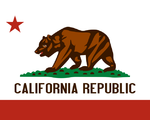 California Governor Jerry Brown signed an omnibus bill on Sept. 27 that included comprehensive changes to the state's public notice law. The changes brought clarity to jurisdictional issues relating to the publication of public notices in the state. The issues first became a concern almost 20 years ago, when the state reorganized its judicial system.
According to the California Newspaper Publishers Association, which supported the legislation, the new law creates Public Notice Districts to define where local notices must be published. These new geographical designations will replace Judicial Districts, which were eliminated when the state's trial courts were unified in each county in 1998. The law still requires notices to be published in newspapers of general circulation, and it automatically recognizes newspapers currently adjudicated to accept such notices.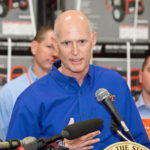 Florida Gov. Rick Scott last week ordered the Florida Department of Environmental Protection (DEP) to develop new rules requiring public and private facilities "to provide notification of incidents of pollution within 24 hours to DEP, local governments and the general public through the media." DEP quickly issued an emergency order increasing notification requirements for pollution incidents, as well as a notice of rulemaking to make it permanent after the emergency expires in 90 days. Under the new rules, facility owners must notify "local broadcast television affiliates and a newspaper of general circulation in the area of the contamination." The rules significantly change the current "patchwork quilt of notice requirements," according to an attorney writing in the Daily Business Review (registration required).
Residents of Mt. Judea, Ark., were surprised to learn recently that their peaceful community is about to become host to a hog farm that will house up to 6,503 hogs. Residents of the town, through a coalition of environmental groups, say that while notices about the development of the C&H Hog Farm may have been legally sufficient, few in town knew about the approval processes.