S.D. Newspaper Receives First Public Notice Journalism Award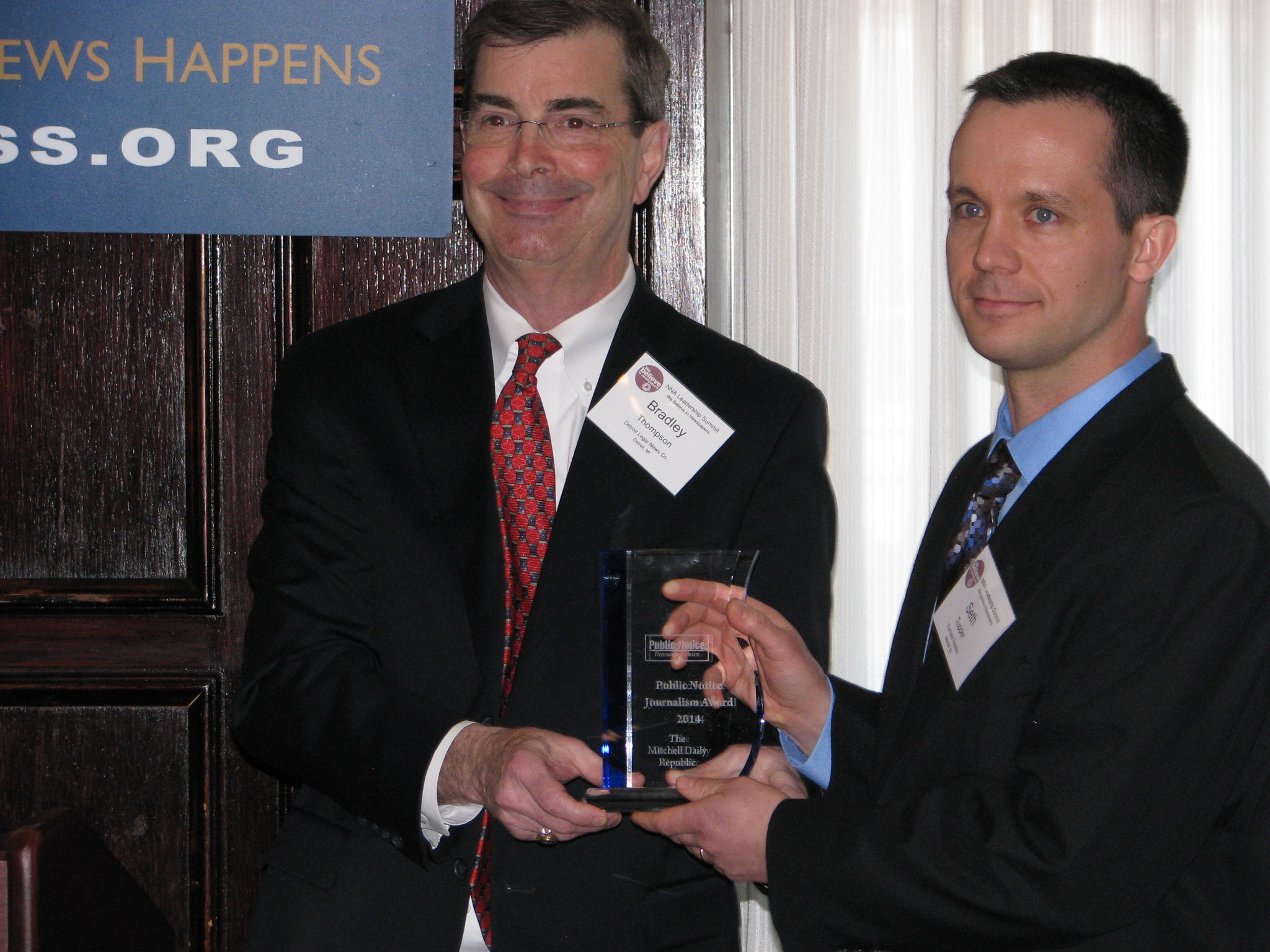 Seth Tupper, publisher of the Mitchell (S.D.) Daily Republic, right, received his newspaper's national Public Notice Journalism Award at the National Newspaper Association's Leadership Summit at the National Press Club in Washington. Presenting the award was PNRC President Bradley L. Thompson II, chairman and CEO of the Detroit Legal News.
Bob Schieffer, long-time Washington correspondent for CBS News, lauded the Republic's work during his keynote speech at NNA's Leadership Summit. Read South Dakota Newspaper Association general manager Dave Bordewyk's column about the award, and Schieffer's mention of the newspaper.
---
PNRC Names First National Public Notice Journalism Award Winner
The Mitchell (S.D.) Daily Republic has been named the first recipient of the PNRC's national Public Notice Journalism Award for 2014. The newspaper is recognized for a series inaugurated by an alert reader who spotted a payment by a local school board in a public notice. The reader's tip to the newspaper led to a protracted open records lawsuit by the newspaper against the school district. The conclusion: the revelation of a $175,000 severance agreement with a former school superintendent that otherwise would not have reached the readers' attention.
The award will be presented March 13 at the National Press Club. Republic editor Seth Tupper will receive the award on behalf of the newspaper.
PNRC President Bradley L. Thompson II, chairman and CEO of the Detroit Legal News, said the revelation of a secret, sealed agreement between the public body and its former employee was the type of public business that might have been swept aside if not for the public notice.
"(The series) all started with the reader who saw the payment in the legals and called us with the tip. Without those legals, I don't believe anyone outside of the school district board and administration would ever have known about the amount or nature of the $175,000 agreement between the school district and the ex-superintendent," Tupper said.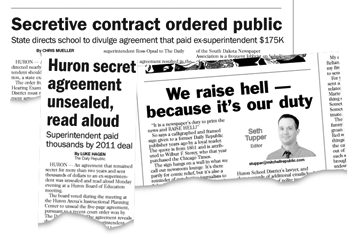 Thompson said the Republic's reporting demonstrated why Americans need robust and viable public notice.
"This series is a terrific illustration of why it is important for governments to keep these notices where the public is likely to find them. The reader in this case helped to point to the story.  The reporting staff and their Freedom of Information lawsuit did the rest. We are honored to recognize this excellent series," he said.
The entry was selected from a pool of stories involving public notice that ran in US newspapers in 2013.
The Public Notice Journalism award was established in 2013 by American Court and Commercial Newspapers in partnership with state newspaper associations. It is intended to encourage reporters and editors to incorporate public notices into their reporting and writing.
In 2014, participating state press associations will begin to make Public Notice Journalism Contest awards within their own existing newspaper awards programs. A national winner will be selected in 2015 from top state candidates.
The winning series of stories can be read here:
Secretive contract ordered public – March 30, 2013
Secret agreement goes to court – May 2, 2013
Paper wins lawsuit against school – August 29, 2013
Secret agreement still secret – August 30, 2013
Huron secret agreement unsealed, read aloud – September 10, 2013
Amount of secret agreement confirmed – September 11, 2013
Column: We raise hell – because it's our duty – September 11, 2013
---
2014 Public Notice Journalism Contest
The purpose of this contest is to recognize excellence in journalism that draws reader attention to public notices.
Download this information to share with your colleagues!
PRIZE: National award $700, Participating state awards $200
PNRC will provide sponsorships in participating states represented by members of American Court and Commercial Newspapers. State press associations in states without PNRC sponsors are encouraged to add the award to their own Better Newspaper Contests with local funding.
CRITERIA:
For purposes of these awards,the PNRC defines newspaper public notices as those announcements or disclosures the law requires a private party or governmental entity to publish in or through a statutorily qualified newspaper.
Stories must cite the public notice requirement and refer readers to the publication in which it appeared. Online references must include links. If the notice requirement was not met or was deficient, story must explain how and why notice was deficient.
Stories may have been published in print or digitally or both. Clippings must be scanned and provided from print copies. Digital copies must be screen scanned and accompanied by a statement by the author providing dates of publication.
National award winners will be selected from state association submissions and one winner from an at-large category.
Presentations of state winners may be made at time and place of sponsoring association's choosing.
Presentation of national winner will be made at a recognized national association event. Judges will be recognized journalism scholars or professional leaders.
First full year of awards:
For publications in calendar year 2014 or year most recently judged in state contest
Entries due at PNRC by January 15, 2015. Email links for entries will appear at www.pnrc.net.
One national award will be presented in March 2014 for a story published in calendar year 2013. No state awards will be given in 2014.