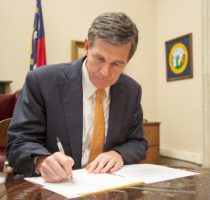 This story was updated on Sept. 5.
North Carolina Gov. Roy Cooper's veto of a bad public notice bill is safe for now.
The state's legislature adjourned for the year on Aug. 31 without ever having voted whether to overturn the governor's veto of HB 205, Sen. Trudy Wade's (R-Guilford) apparent effort to punish the newspapers in her district.