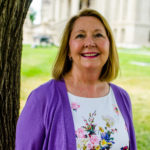 The director of the same Michigan environmental agency under fire for dismissing concerns about the contamination of Flint's water supply admitted her department failed to provide sufficient notice of another recent water proposal in the state, according to MLive Media Group.
Michigan Department of Environmental Quality (MDEQ) director Heidi Grether (pictured on the left) told an air and waste management law conference last week that 42 days on MDEQ's website "probably" wasn't sufficient to properly notify the public about a request by Nestle Waters North America to increase the amount of groundwater it pumps in Osceola County. Grether was named director of MDEQ in August after her predecessor was forced to resign in the wake of the Flint crisis.
"Public notice is truly a partnership between newspapers and local government," PNRC President Bradley Thompson told the Michigan Association of County Clerks at their summer meeting on Aug. 22 in Grand Rapids. "We both have mandates to do it properly."
Thompson (photo on left courtesy of Michigan Press Association), chairman and CEO of the Detroit Legal News Co., used the remainder of his speech to define what proper public notice entails, and to place it in context as part of the three-legged stool of transparent government: Public notice, open meetings and freedom of information.